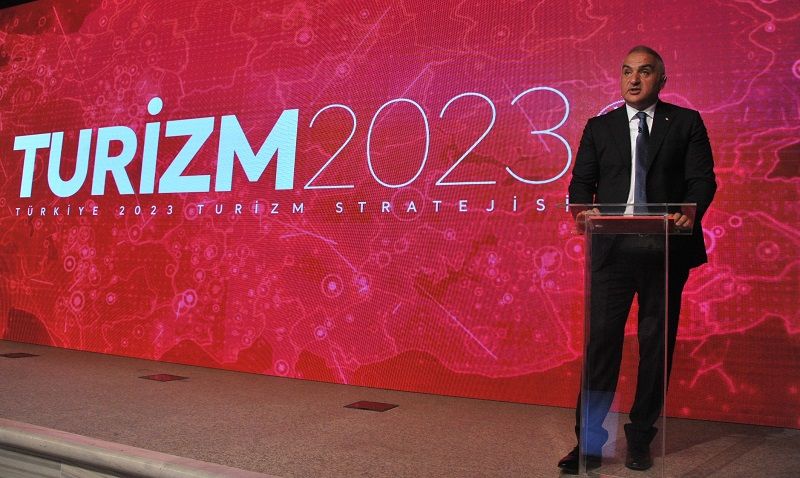 Turkey Revealed 2023 Tourism Strategy
Turkish Culture and Tourism Minister Mehmet Nuri Ersoy; unveiled Turkey's 2023 tourism strategy at the conference with domestic and foreign press members in Istanbul's Dolmabahce Palace, on September 27, World Tourism Day.
The minister also demonstrated that the new 2020 ad films will be used to promote Turkey abroad, developed in accordance with the strategy approaches.
Bringing Turkish tourism to a sustainable and income-driven growth model, the tourism strategy for 2023 is to welcome more than 75 million tourists and achieve a tourism income of $ 65 billion by 2023, as a result of the studies to be conducted and multi-directional new practices.
The tourism strategy for 2023, within the scope of the objectives set in the 11th Development Plan and benefiting from the results of the 3rd Tourism Council, summarizes the path to the major change and improvement expected to be made in tourism sector of Turkey. At the press conference, the Minister of Culture and Tourism, Mehmet Nuri Ersoy spoke about Turkey's tourism strategy for 2023.
Sustainable approach to promotional activities.
Diversification of promotions.
---
See Other News
Underwater beauty of Rumkale to open to visitors
Hana Travel was listed of exporters TIM-500 Turkish
World's Oldest Temple to be Restored
New Mercedes sprinters delivered to Hana Travel
Domestic tourism spending sees rise in Turkey.
Turkey has potential over 75 mln tourists
What attracts foreign tourists to Turkey
Golf Holiday In Turkey
MICE( Meeting-Incentive-Congress-Event)
Antalya welcomed over 15 million tourists in 2019