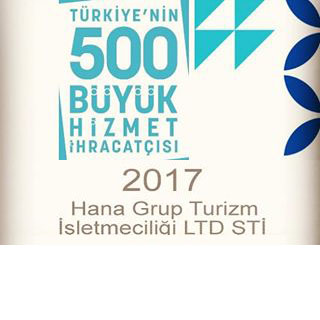 Hana Travel was listed of exporters TIM-500 Turkish
2017- TIM 500 Service Exporter awards were given. Turkey Exporters Assembly (TIM), Turkey's 500 Largest Exporter Services announced the latter's Survey. Turkish Airlines ranked first 2017 ranking. 22 companies from Antalya the entered the list. SunExpress Center located in AntalyaTurkey ,was the second, Hana Travel Group Tourism Shipping and Trading Ltd. Sti. Travel agencies managed to enter the list this year as 36th in the category of services with an annual average of 28 employees, 565 thousand dollars turnover .
---
See Other News
Golf Holiday In Turkey
Domestic tourism spending sees rise in Turkey.
World's Oldest Temple to be Restored
Turkey has potential over 75 mln tourists
New Mercedes sprinters delivered to Hana Travel
MICE( Meeting-Incentive-Congress-Event)
Turkey Revealed 2023 Tourism Strategy
Underwater beauty of Rumkale to open to visitors
What attracts foreign tourists to Turkey
Antalya welcomed over 15 million tourists in 2019