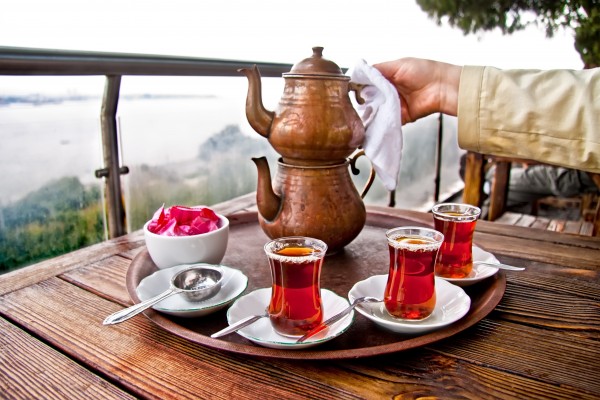 Turkish Tea Culture
Anyone not familiar with the country of Turkey may assume coffee is the national drink but this could not be more wrong. The Turks love drinking tea from sunrise to sunset and there is never a bad time to drink it in Turkey.
The practice is firmly ingrained in the culture as a social experience and a sign of hospitality, ensuring the Turks even beat the Brits when assessing daily consumption.
Called Cay (pronounced chai) it is a clear that Turkey is a nation of tea drinkers.
The Turkish Tea Culture
On most busy streets, there is a familiar sight. A young boy carrying a silver tray hurries through the crowd to deliver small tulip shaped glasses filled with black tea.
The fragrant liquid is not traditionally drunk with milk or lemon, only sugar cubes and sometimes than enough to make a very sweet drink.
Shopkeepers often offer customers a Turkish tea, as a sign of friendship and hospitality. Any holidaymakers browsing through shops only have to say "yes" when being offered the tea and they immediately gain a glimpse into one of Turkey's strong traditions.
Social Etiquette of the Turkish Tea House and Garden
A frequent sight in most towns and villages is a Turkish tea garden called a Çay Bahceşi. Friends and families will gather here to discuss their lives and enjoy each other's company while sipping slowly on tea.
Although everyone goes to the tea garden, it is not often that a woman will be spotted in a Turkish teahouse. Predominately a male environment, there is a teahouse in every village because it is just as important as the local market.
Their wives and girlfriends do not accompany them because the men gather around the table to play board games for hours while sipping on a variety of tea flavors.
How to make Turkish Tea?
To make Turkish tea, a Caydanlik is needed. This is two pots stacked on top of each other and water is placed in the bottom pot, while the tealeaves and a little water is put into the top pot.
When the bottom pot has boiled, mix the water with the tealeaves in the top pot. Then pour the tea into glasses through a strainer so they are half filled. Top up with the boiled water from the bottom pot.
As well as being a large part of the culture, the health benefits of Turkish tea are enormous.
---
See Other Blogs
Private & Shuttle Transfer in Antalya, Belek, Lara Hotels
Popular Cities to Visit
Travel to Antalya
Transportation to Antalya Airport
Antalya, Turkey: A city guide
Places to visit in Antalya, Belek, Side, Kemer, Antalya, Lara, Kundu
The best things to do in Antalya
What you should do in Side?
Book airport transfer in Antalya
What should for Stress-free Holiday?