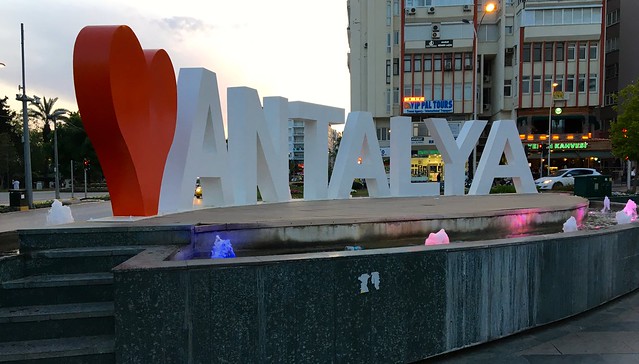 Antalya, Turkey: A city guide
Antalya, Turkey was a perfect escape from the cold Nordic breeze I experienced in Finland in April.
With vacation packages to Antalya currently at rock bottom prices, it has never been a better time to visit Turkey than it is now.
Always seek advice from your local embassy when you travel to learn more about the current situation.
Kaleici, walking in the old city of Antalya;
Kaleici is the old city location in the city of Antalya. Here you can take yourself back in time and walk through the old cobbled streets as you make your way through marinas, mosques and old bazaars.
This was one of the great highlights that made Antalya especially for me as the old town of Kaleici has it all and you can explore all the lost alleys for days.
I'm going to leave some pictures here and you can make a choice. Enjoy the virtual photography walk:
Hadrian's Gate, the entrance to the old city;
Hadrian's Gate acts as a middle ground between the old city and the new.
Easily recognized in Antalya as it is located at the beginning of the main shopping street.
It is well-preserved and is well worth a stop to learn about the history of this gate. An important monument in Antalya, Turkey.
Grab a Turkish tea at the marina;
One of my favorite things to do in Antalya, Turkey is to grab a local Turkish tea and enjoy the beautiful ocean view that Antalya has to offer.
Especially when the sun goes down and the sun glistens over the sea, it is truly spectacular to experience.
Do like the locals and grab a local Turkish tea, relax a bit and enjoy the beautiful scenery of Antalya.
Duden waterfalls;
If you have some free time to kill, Duden Waterfalls is definitely worth a visit.
It's a bit out of the city center but if you can rent a car for a day and also visit Termessos Colosseum this would be a great day trip.
It's extremely touristy in that it's all set up like Disneyland with a ticket window and gift shops at the entrance.
If you can look around this and go straight to the breathtaking waterfalls you will not be disappointed.
Definitely worth a visit if you have some extra time and a way to reach this area as it is a 30 minute drive from the city.
Termessos Colosseum
You have to rent a car or take a tour for the day to reach Termessos Colosseum as it is an hour drive from the center of Antalya.
Could easily do Duden waterfalls together in a day, and that's what we did.
Go back in time to when the Romans were in Antalya.
Located at the highest point, surrounded by Antalya's beautiful national park, the area itself is really cool and definitely worth checking out. It is not a boring ride, for sure.
All the ruins leading up to the Colosseum were battered and untouched on the ground yet maintained and reserved.
I liked visiting Termessos for this reason it was usually left untouched, almost as if it had been abandoned.
Try and try to reach this place early in the morning and have the whole place to yourself.
It's great to hang out here for a while and bring your mind back to what happened here once.
Konyaalti beach, a great meeting place;
It was a nice idea to be located in Konyaalti as it is within walking distance to the beach.
Here you will find a number of cafes along the strip and here you will find a chill local atmosphere.
Nice location to enjoy some sun and waves, as well as grab a Turkish tea and watch the sunset.
Travel from Antalya city center to Konyaalti;
Traveling by bus in Antalya is a local experience to say the least.
First, at none of the bus stops you will not find information about the bus timetable and it is very difficult to get help from the driver.
But for about 2 TL per ride, what have you got to lose!
It can be an adventure in itself and sometimes I have to admit I had no idea where I was going but it all seemed to work.
Some routes only went one way, so it can be difficult to find the bus.
One problem is that the bus drivers no longer accept money and you have to buy a prepaid card as shown above.
If you plan to stay in the Konyaalti area it is quite fun and easy to get around on the local bus as you will only find two buses that drive into town and back.
All I can say is good luck and have an adventure with it.
---
See Other Blogs
Travel to Antalya
Turkish Tea Culture
What you should do in Side?
Transportation to Antalya Airport
Book airport transfer in Antalya
Popular Cities to Visit
Private & Shuttle Transfer in Antalya, Belek, Lara Hotels
The best things to do in Antalya
Places to visit in Antalya, Belek, Side, Kemer, Antalya, Lara, Kundu
What should for Stress-free Holiday?