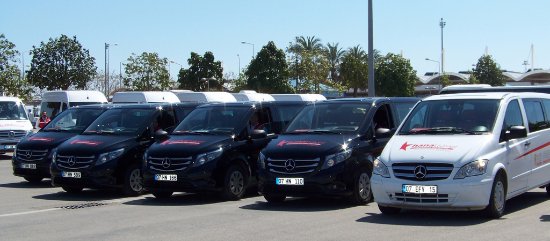 Transportation to Antalya Airport
Transportation to Antalya Airport
Antalya Airport
Antalya "AYT" is the third largest airport in Turkey with more than 20 million passengers.
The airport is 10km away city center.
The modern airport is served directly by airlines from all major European cities between autumn and October.
It has two recently renovated international terminals and a national terminal.
Another airport in Antalya Province is Alanya-Gazipasa Airport, 140km east of Antalya.
Flights to Antalya
Virtually all major European and Turkish airlines flys to Antalya.
A direct flight from European Cities to Antalya costs depending on the season 120 to 300 €.
Between June and September, the airlines charge the more. The first months of spring and October are usually the cheapest, as many under-utilized charter flights between Germany, Russia, UK and Turkey becomes available.
The most money for a flight to Antalya you save with the early booking offers of the airlines in winter, the tickets cost 20 to 40% less.
To find a cheap flight to Antalya I recommend Hanatravel.com!
Airport transfer in Antalya
Group transfer: A shuttle picks you up at the airport and brings you and other travelers to your hotel. You pay a price per person on the bus, the journey takes long time since you have to wait at the airport for other travelers and in several hotels for other travellers. A group transfer can be found with Hana Travel, voyagetransfers, antalyahoteltransfers.
Private Transfer: A private driver will meet you directly to the exit of the terminal at the airport and take you straight to the hotel. Since you pay a price per trip, a private transfer for three people in the car is only slightly more expensive than public bus or shuttle transfer. You can find a good private transfer with Hana Transfer ..
Taxi: This option is recommended only for the city or to the Hotels located in. The pre-booked private transfers are always cheaper than the taxis in Antalya for any destination as Belek, Side, Kemer, Alanya .
Public: A tram line goes directly from both terminals of the airport to the city center of Antalya. The journey takes 45 minutes and costs about 3 Turkish Lira. Buses to nearby seaside resorts leave from the Otogar bus station in Antalya. Since the trip from the airport to the bus station alone takes 90 to 120 minutes, I do not recommend it. The collective buses cost only a few euros more than public transport and are much faster.
Rental Car
The journey with a rental car from Antalya airport in the surrounding seaside resorts is very simple. The airport is located directly on the D400 expressway that runs through all seaside resorts on the Turkish Riviera and Lycian Coast.
Eight car rental companies have an office right at the airport and their stands are right at the exit of the terminal.
If possible, you should reserve a car in advance, especially in summer, when the demand increases.
Daily or Hourly chauffeured Car Hire
If you don't want to be stuck in your hotel and If you want to see the tourist attractions and magnificent beaches in Antalya, you can rent a car with driver. This way, you will be taken by a driver to any where you want to see. Just decide how many hours to rent and where to go. The best way to avaoid the traffic jam and he driving stress nd enjoy instead the views . It is available in Belek, Side, Lara, Alanya, Kemer regions for daily or hourly chauffeured car hire. Hana Travel offers you this opportunity.
---
See Other Blogs
What should for Stress-free Holiday?
Book airport transfer in Antalya
Popular Cities to Visit
Turkish Tea Culture
Antalya, Turkey: A city guide
Travel to Antalya
Places to visit in Antalya, Belek, Side, Kemer, Antalya, Lara, Kundu
What you should do in Side?
Private & Shuttle Transfer in Antalya, Belek, Lara Hotels
The best things to do in Antalya