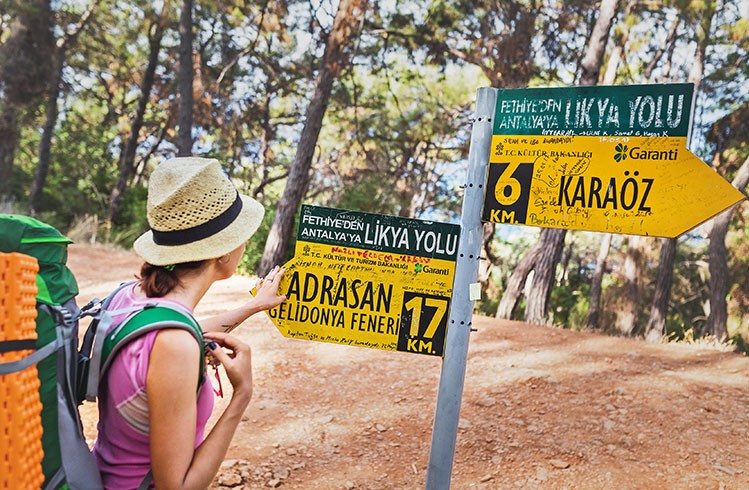 Turkey's Trekking Trails
Turkey offers countless opportunities for trekking enthusiasts. However, some regions offer trekking enthusiasts an unforgettable experience, immersed not only in unparalleled natural beauties, but also ancient ruins.
Here is a small list of Turkey's most popular hiking routes that combine history and nature:
The Lycian Way: (A route where history meets nature)
Combining traces of the ancient history of Western Anatolia with unique sea and nature views, the Lycian Way is one of the best hiking routes not only in Turkey, but in the world. The 509 km route connecting Turkey's two main coastal tourism cities, namely Muğla and Antalya, is one of the 10 longest hiking routes in the world. Also, the longest hiking trail in Turkey is marked with the international signage system, the Lycian Way with ancient ruins of Lycians, one of the oldest civilizations in Anatolia, as well as natural beauties that mix green and blue. The Lycian Way passes through Turkey's main tourist destinations such as Ölüdeniz, Kabak Beach, Yediburunlar, Patara, Kalkan, Kaş, Demre, Finike and Adrasan.
Cappadocia:
The legacy of volcanic activities that took place millions of years ago, the Cappadocia region is one of Turkey's most extraordinary hiking trails with its deep tuff valleys, so-called fairy chimneys, and rock-cut settlements that have been home to countless civilizations over the millennia. Located in the Central Anatolian region of Turkey, Cappadocia extends over a large area in Nevşehir, Kayseri and Aksaray provinces, offering trekking enthusiasts numerous routes through valleys such as Ihlara, Soğanlı, Güvercin, Aşıklar, Kızılçukur, Gül, Bal. , Zemi, Keşişler, Devrent and Avla. While exploring the region, hiking enthusiasts are also recommended to experience the underground cities, carved churches, fairytale chimneys and the memorable hot air balloon ride.
The Hittite Trail:
Another important route in Turkey is the Hittite Trail, named after the Hittites who established their state in BCE 1600s and then became the superpower of the era in northern Mesopotamia and Anatolia. Located in Central Anatolia, the Hittite Trail connects millennia-old Hittite cities such as Hattuşaş, Alacahöyük and Şapinuva in Çorum, inviting hikers to travel back in history. The Hittite trial includes daily routes ranging in length from 2 to 18 kilometers, and six longer walking routes between 23 and 87 kilometers, as well as six cycling routes of 32 to 103 kilometers. The Karakaya-Alacahöyük stage and the 11-kilometer İskilip Elmalı Valley stage along the Köroğlu mountain range are characterized by breathtaking views.
Discovering the amazing view of Kazdağları:
Located in the Edremit district of Balıkesir in the Northern Aegean region, Kazdağları National Park is home to hiking trails that combine mythological stories with unparalleled natural beauties. Trekkers are guided by certified guides in Kazdağları National Park, which is home to 29 endemic plant species as well as traces of ancient history.
According to mythology, Kazdağları is the birthplace of Zeus and the place where he saw the famous Trojan War and is also known as the site of the first beauty pageant in history with Hera, Aphrodite and Athena.
Bafa Lake and Latmos (trekking through ancient cities):
Located near the Beşparmak (Latmos) mountain range in the Aegean region, Bafa Lake is the area's main water source that has been home to numerous civilizations throughout history. Kapıkırı Village on the banks is built on the ruins of Hereklia, which was the administrative center of the area in ancient times. There are plenty of hiking trails around the lake or walk through ancient sites in nearby villages. The old path used by villagers of Kapıkırı today connects the ancient cities of Myus and Alinda. The old pavers of this road are still intact. There are also numerous trails at the base of Latmos Mountain, and experts suggest that the trail leading up to Yediler Monastery is the most scenic and least challenging.

You can use private airport transfer and taxi transfer from airport to your trekking destination with affordable prices and Hana travel quality service.
---
See Other Blogs
Travel to Antalya
What should for Stress-free Holiday?
Book airport transfer in Antalya
Antalya, Turkey: A city guide
Popular Cities to Visit
Places to visit in Antalya, Belek, Side, Kemer, Antalya, Lara, Kundu
Private & Shuttle Transfer in Antalya, Belek, Lara Hotels
Turkish Tea Culture
Transportation to Antalya Airport
What you should do in Side?