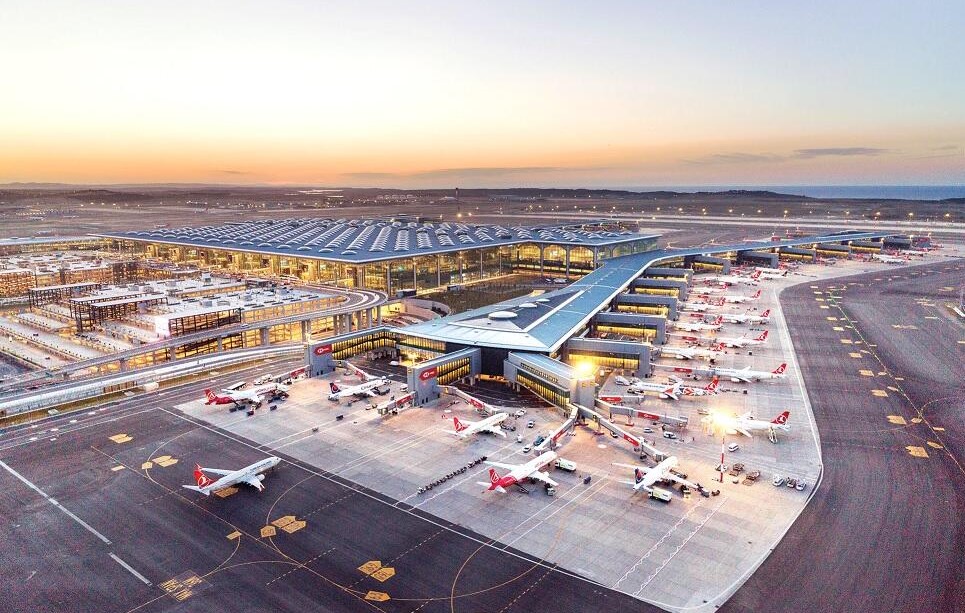 Turkey's crowded Airports
There is much to visit and do in such a large country. We've compiled a list of Turkey's crowded international airports to help you plan your vacation even more.
Istanbul Airport, Istanbul (IST):
Istanbul's bright and shiny new airport has both international and domestic terminals, and when all phases are fully completed, the airport will serve 200 million passengers a year.
The airport itself has a variety of cafes, quick snacks and snacks, duty free shops and a large shopping area. Make sure you actually get on your flight, the temptation to see everything is real!
Located on the European side of the city, the airport is easily accessible by specially constructed roads. The transportation takes about 40 minutes from the main Taksim Square. There are bus stops around the city in high-density transportation areas, so getting to and from the airport is easy and convenient. A metro line is currently under construction.
Sabiha Gokcen Airport, Istanbul (SAW):
Sabiha Gokcen is located on the Asian side, southeast of the city, close to the Sea of ​​Marmara. Sabiha Gokcen Airport has both international and domestic terminals.
Plenty of local and international dining options, duty free shops and facilities are available.
Getting to and from the airport is easy and convenient thanks to the extensive shuttle networks that connect both the European and Asian side of the city and other nearby cities such as Sakarya and Bursa. Train and metro expansions are planned to reach the airport.
There is a shuttle service between Istanbul's two airports, in case you need it.
Antalya International Airport, Antalya (AYT):
Antalya is one of the largest airports in southwestern Turkey and serves both international and domestic visitors. Most visitors to Turkey's Mediterranean coast pass through Antalya Airport on their way to their final destination.
There are some international and local snack spots, tax free and other shopping options.
There are bus networks connecting nearby cities to the airport, the Antalya tram line and local bus lines also connect to the airport.
Adnan Menderes Airport, Izmir (ADB):
Izmir is a popular summer holiday destination and Adnan Menderes Airport is the gateway for many international visitors. Those destined for beaches and towns along the Aegean Sea will most likely fly to Izmir. The airport has both international and domestic terminals to connect you to various locations in Turkey.
There are some international and local snack spots, tax free and other shopping options.
There are bus and train connections to the airport, which provide connections to other cities in the region.
Esenboga Airport, Ankara (ESB):
Esenboga Airport serves the Turkish capital Ankara and the surrounding area. With both domestic and international terminals, Esenboga is one of the busiest airports in Turkey. Esenboga serves a large number of domestic passengers and is an important transfer airport.
There are international and local eateries and snacks, cafes and duty free shopping facilities.
There are extensive bus transport options that connect to the city center and bus terminals to further destinations.
Dalaman Airport, Mugla (DLM):
Located on the southeast coast, Dalaman Airport sees a high passenger volume, especially in the summer when domestic and international travelers descend on the beautiful Mediterranean coast. There are extensive bus networks connecting passengers to destinations along the coast and inland.
Milas Bodrum Airport, Mugla (BJV):
Bodrum is a popular seaside retreat for international and local travelers, especially in the summer. There is a recently renovated, very spacious international and domestic terminal. Each terminal has local and international food and snack outlets, duty free and shopping facilities. There are bus services connecting the airport to the city center and other towns around the Bodrum peninsula.
Trabzon Airport, Trabzon (TZX):
Trabzon Airport has international and domestic terminals and is an important starting point for further domestic travel in the Black Sea and beyond. Located in northeastern Turkey, Trabzon is located on the Black Sea coast, bordering the beautiful expansive greenery and mountain ranges that characterize the region. Those looking to trek, hike or camp in the area are likely to pass through Trabzon Airport somewhere on their journey. Trabzon Airport is not far from the city center, making it easy to get in and out of the city.
---
See Other Blogs
Book airport transfer in Antalya
Popular Cities to Visit
Transportation to Antalya Airport
Private & Shuttle Transfer in Antalya, Belek, Lara Hotels
Travel to Antalya
What you should do in Side?
Antalya, Turkey: A city guide
Turkish Tea Culture
What should for Stress-free Holiday?
Places to visit in Antalya, Belek, Side, Kemer, Antalya, Lara, Kundu