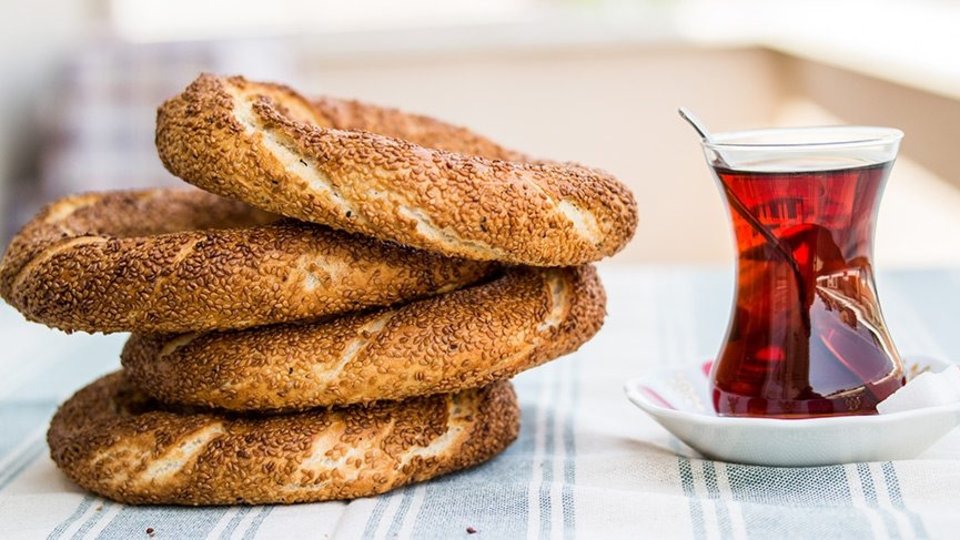 The story of sesame bread "SİMİT"
Turkish simit is a delicious bread with sesame crust that you can have for breakfast. Learn how to make a traditional simit recipe at home with this step-by-step tutorial.
Another Turkish recipe for your collection! Now it's time for one of the most iconic Turkish recipes out there: Simit, a beautiful ring-shaped bread, crispy on the outside and soft on the inside.
If you love bread as much as we do, or bake bread as much as we do, you will love today's recipe. This traditional Turkish bread is a bit of a project, but it's so much fun to make and so delicious with all the toasted sesame seeds.
What is Simit?
Simit is a sesame crusty round bread from Turkey. Also known as Turkish bagel, Gevrek or Koulouri, this crusty bread is probably the most common bread in Turkey. It is usually served for breakfast and it always has a ring shape. Simit is usually sold in carts in Istanbul and the people who sell them are called simitci.
How is Turkish simit different from bagels?
The only similarity between simit and bagels is probably that they are both circular. Simit is not that thick and it is crunchier than bagel. Simit's texture is lighter compared to bagels and traditionally they are completely covered in sesame seeds.
Traditional simit ingredients;
Like many other bread recipes out there, a classic simit recipe calls for flour, yeast, salt, flour, sugar, water, and vegetable oil. What makes this tukrish bread different from any other bread is that it is dipped in a mixture of molasses and water before being rolled into a pool of sesame seeds. The combination of molasses and water gives this round bread that unique brown color, supplemented with a very light sweetness.
There are so many recipes for this Turkish transition bread and some of them have ingredients as simple as flour, water and yeast. It took us a few tries to perfect this simit recipe and get it as close as possible to the one you'd find in a Turkish bakery.
How do you make simit at home?
I love to simit at home, the process is so much fun and worth it. Start by placing 4 cups of flour, yeast, salt, and sugar in a mixing bowl. Add warm water and vegetable oil. Start mixing with the dough hook until the dough comes together and is slightly sticky. If the dough is too sticky and sticks to the bowl, start adding the 5th cup of flour one tablespoon at a time. You probably only need 2 or 3 tablespoons of flour.
Once the dough is together and a little sticky, it's time to knead the dough. Knead the simit dough with a dough hook for about 8 minutes until it is no longer sticky. Cover the bowl and let it rise for 1.5 hours until it doubles in size.
Meanwhile, toast the sesame seeds (see The Spruce Eats guide on how to roast sesame seeds) and beat the molasses and water in a shallow and wide bowl (like a pie dish).
After 1.5 hours, check the simit dough that should have doubled by now. Beat down gently and knead for a few seconds. Divide the dough into 16 pieces. Roll out two of the dough pieces into 25-inch tubes. Place them parallel to each other and roll in opposite directions to make a turn (see the step-by-step photos). Meet and pinch the ends on both sides to form a circle. Repeat with the remaining 14 pieces to make 7 more simits.
Dip each twisted dough into the combination of molasses and water, making sure it is covered on both sides. Then dip them in toasted sesame seeds and make sure they are completely covered.
Let the dough circles rest for another 20 minutes. Preheat the oven to 400F and line a baking sheet with parchment paper. Bake the simits in the oven for 12-15 minutes until browned and fully baked.
Enjoy your delicious Turkish bagel "Simit"
---
See Other Blogs
Private & Shuttle Transfer in Antalya, Belek, Lara Hotels
What should for Stress-free Holiday?
Antalya, Turkey: A city guide
What you should do in Side?
Transportation to Antalya Airport
Book airport transfer in Antalya
Travel to Antalya
Places to visit in Antalya, Belek, Side, Kemer, Antalya, Lara, Kundu
Popular Cities to Visit
Turkish Tea Culture