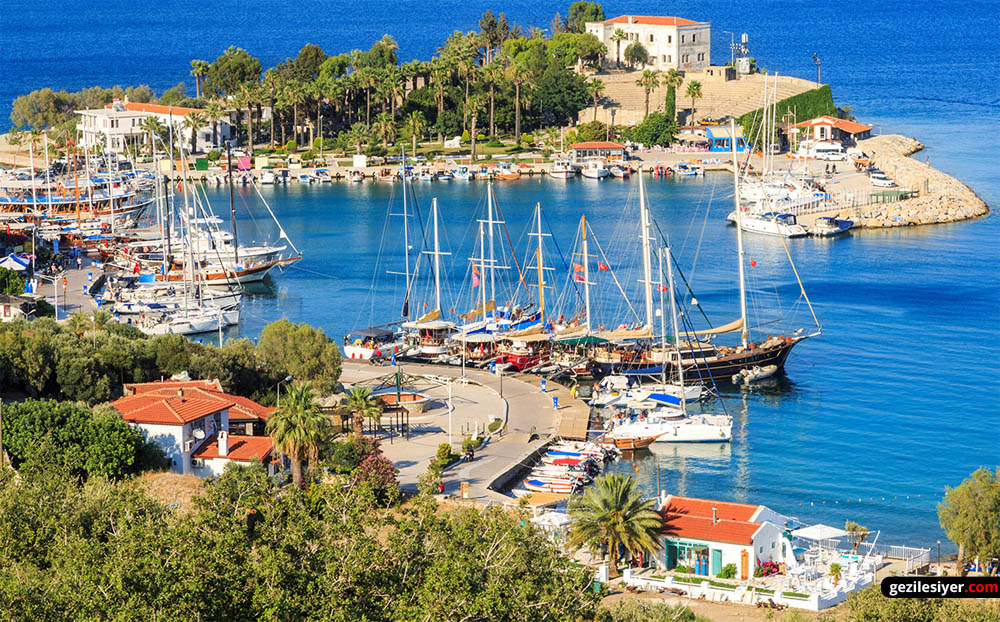 Fantastic Destinations for a Romantic Weekend Getaway!
You have 3-4 days for a weekend! Now you just want to take that special someone with you on a weekend as romantic as possible. Not too expensive, but certainly not 'cheap'. You want fantastic views, great food and lots of magical one-on-one with the person that makes you feel great.
Turkey has some fantastic destinations that are perfect for a romantic weekend getaway! We have listed it for you, although this is by no means an extensive list. Read on and see which one suits you best!
Kas;
Kaş is a small, quaint town that slopes down a hill to the Turquoise Riviera. The town is beautiful, clean cobbled streets lined with stone houses, and a small peninsula juts out above the town with views of Mediterranean islands and turquoise waters.
This is the perfect place to spend the day relaxing by the pool with a fantastic view in front of you, then going out for a fantastic evening meal and maybe a touch of nightlife in the city. Nothing too crazy, but enough to share a dance or two with your partner before you crawl back into your room while the waves ripple below you and fall asleep. Yes, Kas is great.
Dalyan;
If you just want your own piece of paradise all to yourself then Dalyan is the place. Find a nice place to spend the night with a view of the king's tombs in front of you, and spend the day by boat to a pristine beach where literally no one else is around, except the caretta caretta loggerhead sea turtles that make Dalyan their own spawning grounds. Snorkel or dive with the turtles, just the two of you, and enjoy a beautiful beach all by yourself.
The town itself is perfect for a night walk, with restaurants and cafes open late and shops open too, the small main street is perfect for walking back to your room hand in hand and curling up together.
Cappadocia;
If you're looking for a weekend of fairytales, you've found your place. A hot air balloon over the fairytale chimneys of Cappadocia as the sun rises in front of you is one of the world's most breathtaking sights. There is no better place to imagine or share someone a special romantic moment than hundreds of feet in the air above a place that doesn't look like it could possibly be planet Earth.
The towns of Cappadocia are quaint and the locals are friendly, and active couples can do endless things if you are looking for more than just sea and sun. Cappadocia is a real hotbed of culture and is a great place if you're looking for a getaway like you can't find anywhere else in the world.
Datça;
Do you REALLY want to escape? Datça may be a peninsula, but it feels like an island and may have the most secluded bays anywhere on the Mediterranean. At bays such as Günlük Bükü or Aktur Coves, the water is as quiet as a swimming pool and has the same turquoise color. You feel like you are a million miles away from everything, when in fact you are only a few hours away from the airport you flew to! To get away from it all, no place is as big as the Datça peninsula.
Istanbul;
Finally, what could be more romantic than a Bosphorus tour departing from the historic peninsula, past Hagia Sophia, Galata Tower, Maiden Tower and much more! Istanbul is one of the world's most beautiful cities and wherever you go you have a fantastic view over the deep blue of the Bosphorus.
As one of the world's greatest metropolises, if you're looking for an evening with a great meal, the cinema, the theater or whatever, Istanbul has it all and is one of the world's greatest retreats for an incredibly romantic getaway weekend.
---
See Other Blogs
Popular Cities to Visit
Travel to Antalya
Book airport transfer in Antalya
Turkish Tea Culture
Places to visit in Antalya, Belek, Side, Kemer, Antalya, Lara, Kundu
What should for Stress-free Holiday?
Antalya, Turkey: A city guide
Transportation to Antalya Airport
Private & Shuttle Transfer in Antalya, Belek, Lara Hotels
What you should do in Side?