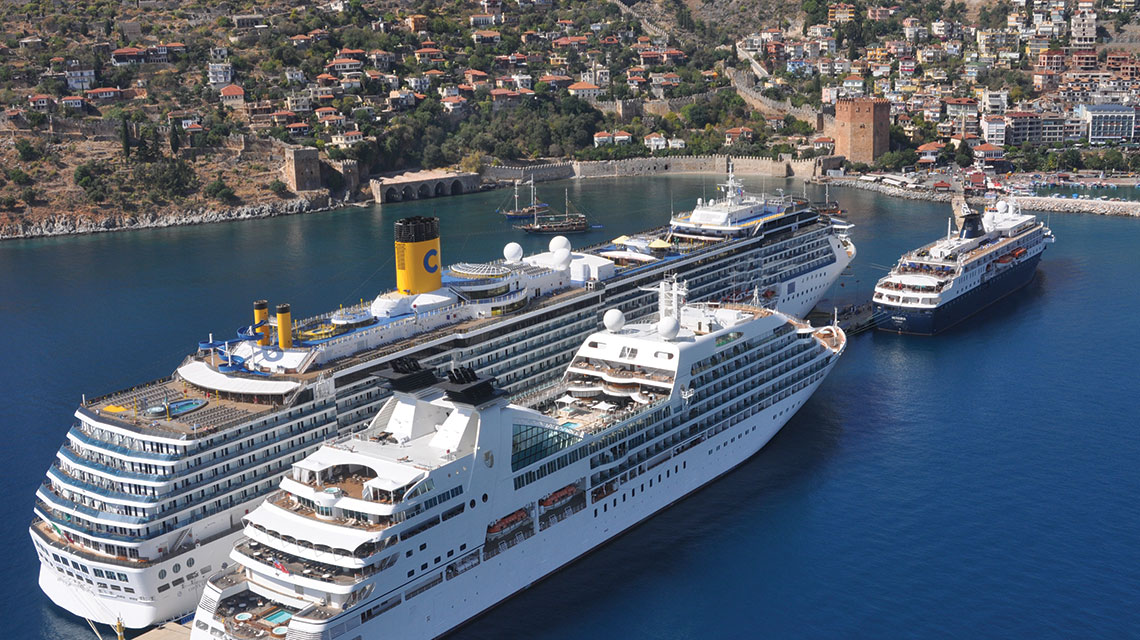 Cruise Ports In Turkey
Turkey ports for cruise ships
Turkey is a hidden paradise for all cruise ships. Turkey's most popular cruise ship ports are around Istanbul, Izmir, Kusadasi, Marmaris, Bodrum, Antalya, Cesme, Sinop, Canakkale and Trabzon.
Turkey is becoming a popular destination for international cruise ships with its developing cruise tourism and new cruise ports.
The number of cruise ship passengers who visited the country exceeded 3 million. Many cruise ships docking in Turkish ports are increasing every year. The number of cruise ships visiting Turkey is expected to increase in the next season.
Turkey is often visited by cruise ships sailing across the Aegean, Mediterranean or Black Sea. Popular ports of call are Istanbul, Izmir, Kusadasi and Antalya. In addition, many fascinating locations are not far inland and can be visited on day trips from your ship.
Many international cruise ships dock in Turkish ports, especially Istanbul on the coast of Marmara, Kusadasi, Marmaris, Bodrum and Izmir on the Aegean coast, Antalya on the Mediterranean coast, with fewer berths at Sinop and Trabzon on the Black Sea coast.
Cruise ship ports in Turkey:

Kusadasi cruise port, Aydin
Cruise port of Marmaris, Mugla
Bodrum Cruise Port, Mugla
Datca Port, Mugla
Gulluk Port, Mugla
Fethiye, Mugla
Gocek Port, Mugla
Istanbul Cruise Port, Istanbul
Izmir Cruise Port, Izmir
Cesme Cruise Port, Izmir
Dikili Cruise Port, Izmir
Antalya cruise port, Antalya
Kas Port, Antalya
Port of Kemer, Antalya
Alanya cruise port, Antalya
Tasucu Port, Mersin
Mersin Cruise Port, Mersin
Canakkale Cruise Port, Canakkale
Iskenderun Port, Hatay
Trabzon Port, Trabzon
Sinop Port, Sinop
Samsun Port, Samsun
Bartin Port, Bartin
Mudanya port, Bursa
---
See Other Blogs
Travel to Antalya
Book airport transfer in Antalya
What should for Stress-free Holiday?
Private & Shuttle Transfer in Antalya, Belek, Lara Hotels
Popular Cities to Visit
Places to visit in Antalya, Belek, Side, Kemer, Antalya, Lara, Kundu
What you should do in Side?
Turkish Tea Culture
Antalya, Turkey: A city guide
Transportation to Antalya Airport