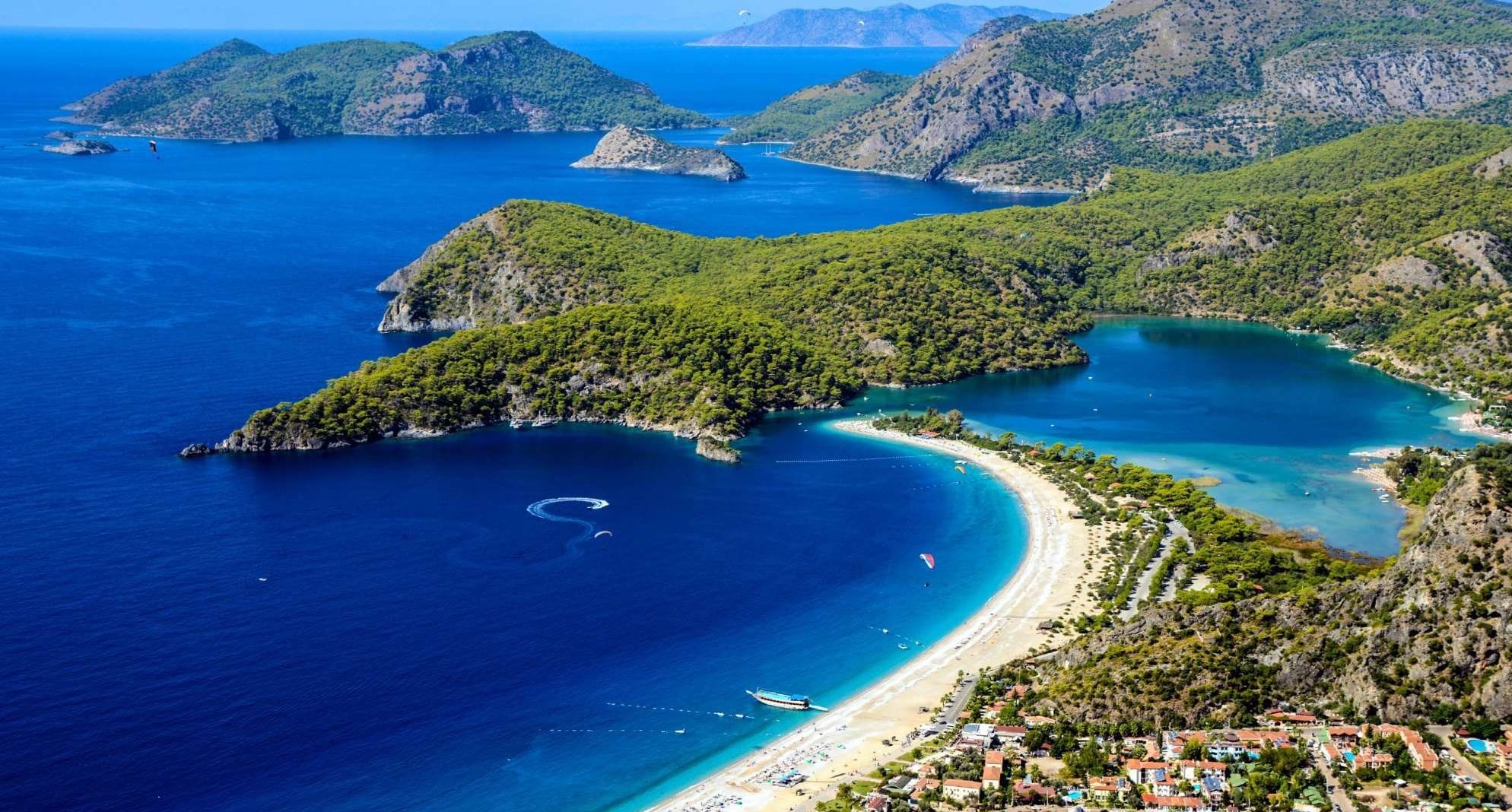 Blue waters, Fethiye
Fethiye is built above the ruins of what used to be the ancient city of Telmessos, the ancient theater of which is still located in the city center. Today, the city is surrounded by some of the world's most beautiful beaches, has a harbor with many boats, a vibrant city life and delicious cuisine.
The fish market in the middle of the city is one of the most popular places for an evening meal, where you can literally see the fish you are going to eat and grill it right in front of you at a number of different establishments. But the city has dishes for every taste, and the marina is perfect for an evening stroll.
Ölüdeniz;
Ölüdeniz's white sandy beaches and turquoise waters make for one of the most breathtaking natural spots to see - or to swim in! - anywhere in the world. By paragliding over this breathtaking sight you can see it in all its glory. You can see every inch of the famous blue lagoon and given that very rarely there are many clouds in the sky, the views of the Mediterranean are almost always breathtaking.
Fethiye Museum;
Since Fethiye is the starting point of the Lycian Way and a focal point for so many ancient cities, it is no surprise that the museum has many incredible artifacts from the Persians, Greeks and Romans.
Butterfly Valley;
Hundreds of species of butterflies make this bay their home. It is only accessible by boat and the beach and the steep cliffs that overlook it are simply incredible.
---
See Other Blogs
Turkish Tea Culture
Places to visit in Antalya, Belek, Side, Kemer, Antalya, Lara, Kundu
What you should do in Side?
Private & Shuttle Transfer in Antalya, Belek, Lara Hotels
Book airport transfer in Antalya
Travel to Antalya
Popular Cities to Visit
What should for Stress-free Holiday?
Antalya, Turkey: A city guide
Transportation to Antalya Airport