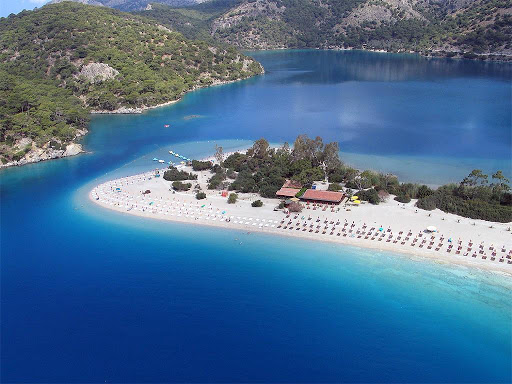 Best Beaches in Turkey
Travelers looking for a beach holiday may want to consider the Turkish Riviera. Guests are surrounded by luxury, not to mention a wide range of water activities, from slides to windsurfing to just lounging on the beach. Or they can relax with a spa treatment or a traditional Turkish bath. Additionally, these resorts offer many international cuisines, along with fitness centers to handle those calories. Most of the best beach resorts in Turkey can be found between Antalya and Alanya, with a few near Bodrum and Oludeniz.
1- Kaputas Beach, Kas
Kaputas Beach Kas; The beach is located at a distance of 20 km from Kaş and 7 from Kalkan, at a point where an extremely narrow valley with steep cliffs and forests meets the coast in the bay of the same name as the beach (Kaputaş). The beach is quite popular with visitors to the region for its pristine natural beauty commanded by a view from the heights traversed by the D400 national road between Kaş and Kalkan.
2- Iztuzu Beach (Dalyan)
Iztuzu beach is supported by the Dalyan Delta. Iztuzu's six kilometers of golden sandy beaches are just a 15-minute drive from Dalyan Town. Perhaps for this reason, the beach is rarely busy. The beach is a fine strip of white sand that protrudes into the water. Backed by Dalyan Delta, it is a beautiful and natural place.
If you are looking for complete isolation, turn left to Iztuzu and follow the dirt roads into the mountains. You will travel through lush forests and isolated mountain villages, and eventually you will find some isolated, stunningly beautiful beaches.
3- Kleopatra beach, Alanya
Kleopatra Beach, Alanya; The city (115 km east of Antalya) is busy and busy, but the beaches are so long (22 km to the east) that there is enough sand for everyone.
4- Blue Lagoon (Oludeniz Beach), Fethiye
Blue Lagoon Ölüdeniz, Fethiye, Very good, with good hotels, restaurants and bars, but being the most famous in Turkey it can get busy.
Oludeniz Blue Lagoon Turkey is a wonderful place famous for its beautiful beaches and historic sites. It has to be said that the beach resort in Oludeniz is quite a quiet and peaceful place so you will not find noisy disco bars and shows. In fact, tourists come here for other reasons.
Sometimes holidaymakers from Marmaris, Bodrum, Antalya come to Oludeniz Blue Lagoon Turkey for a day. If we answer the question how far Oludeniz is from Marmaris, we have to admit that Oludeniz to Marmaris is 137 km. As for the distances to other resorts: Antalya to Oludeniz is 201 km.
5- Patara Beach, Patara (Fethiye)
Today Patara Turkey is best known for its beautiful white sandy beach. Patara Beach Turkey is a strip of white sand 500 meters wide that extends 20 km along the Mediterranean coast. There are sun beds, changing rooms, various places to eat and have fun on the beach. It is a place where tourists can relax in a quiet, secluded atmosphere amid the beautiful seascapes. Beach and sea are kept perfectly clean as Patara is the national park and protected by the government. You can reach Patara beach from Fethiye by car on the D400 coastal road to Antalya.
6- Ilica Beach, Cesme
Ilıca is a large resort near Çeşme in the far west of Turkey, in the province of Izmir. A municipality in practically all aspects, Ilıca is administratively dependent on the municipality from the district center of Çeşme, at a distance of 5 km to the west.
Today it is a popular destination for many. The name refers to the famous thermal springs, some of which lie in the sea. Because the thermal water comes out of the seabed and mixes with the seawater and adds minerals very close to Ilica beach, swimming on Ilica Beach is ideal for the skin. Ilica is also home to mud baths that are known to cure many diseases such as rheumatism, metabolic diseases and gynecological diseases.
7- Konyaaltı & Lara Beach (Antalya)
Walk across the multicolored pebbles and feel the warm waves tickling your feet in this scenic beach park with views of distant mountains.
Konyaalti Beach Park is a vast pebble beach with a breathtaking backdrop of mountains. Showers, restaurants and the sea offer sun worshipers a respite from the blistering heat. Make this your favorite spot for water sports, swimming and relaxing on the Mediterranean Sea, just outside the city center.
8- Olympos (Antalya)
The opposite of the others: small, secluded, atmospheric, backed by a forest full of Roman ruins. 79 km southwest of Antalya. Located on the Mediterranean coast in the province of Antalya, Olympus beach is famous as the place to see Chimera - natural flames emanating from the rocky mountains.
9 - Side (Manavgat)
The once idyllic village 65 km east of Antalya is now busy and noisy, but the beaches are still fine and pristine. Roman ruins galore.
10- Bodrum peninsula
Bodrum peninsula; Beaches in the towns aren't great, but good smaller ones are plentiful: Ortakent Yalısı (coarse sand and pebble) Turgutreis (surfy)
---
See Other Blogs
What you should do in Side?
Book airport transfer in Antalya
Places to visit in Antalya, Belek, Side, Kemer, Antalya, Lara, Kundu
Turkish Tea Culture
Popular Cities to Visit
Private & Shuttle Transfer in Antalya, Belek, Lara Hotels
What should for Stress-free Holiday?
Travel to Antalya
Transportation to Antalya Airport
Antalya, Turkey: A city guide