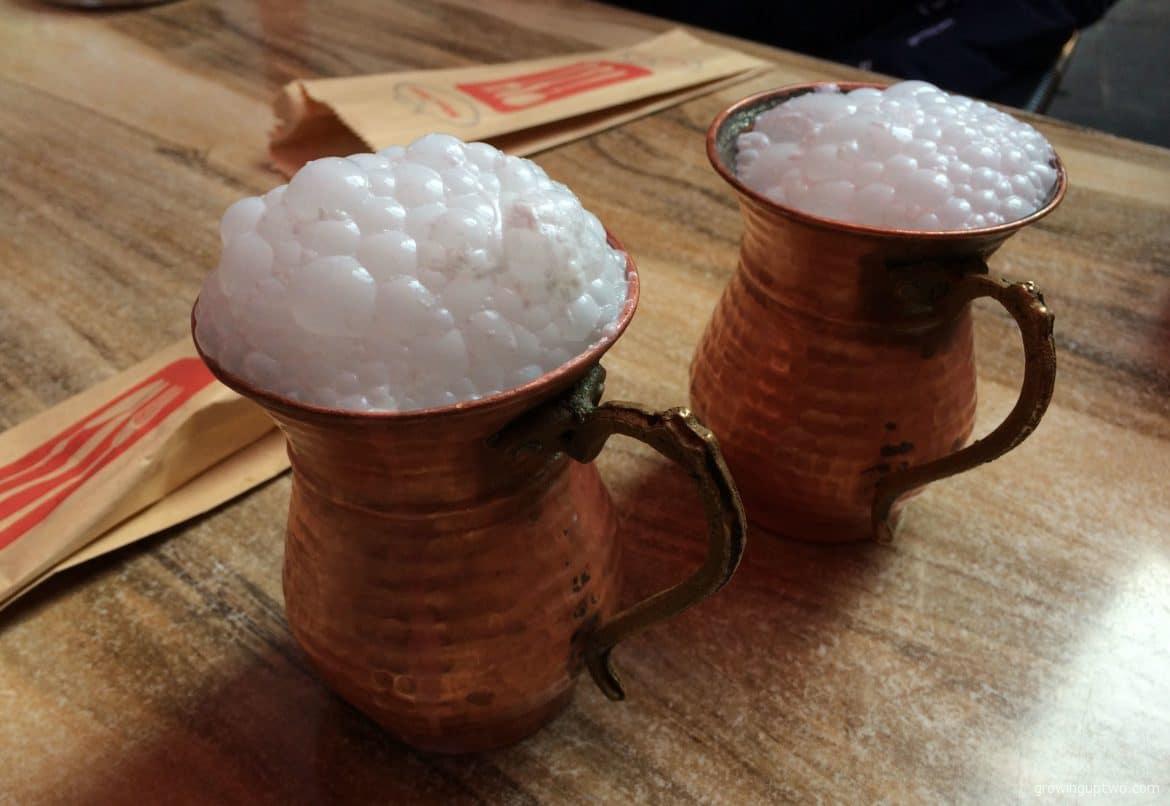 Ayran, Turkey's favorite daily drink
in Turkey, water is not the only way to quench your thirst. You can replace it with various drinks, water-rich desserts and foods. Every nation and culture has its own drinks and food to quench thirst. For example, Italians prefer to drink affogato, a smooth ice cream that drowns in a cup of espresso, while the Japanese enjoy kakigori, a dessert of shaved ice flavored with syrup and condensed milk. When it comes to Turkey, Ayran tops the list of summer drinks, followed by Cacık and Haydari.
Ayran, also known as Turkey's non-alcoholic national drink, is made from yogurt, water and salt. It is very easy to make this drink yourself by mixing all the above mentioned ingredients, according to your own taste and desired thickness. In addition to thirst quenching, it is also very healthy. It does not contain sugar. Drinking salty ayran is one of the few quick ways to take sodium (salt) during the summer months when one can dehydrate and lose salt, which can be dangerous to health. In addition, one can take advantage of the undeniable health benefits of yogurt, which is rich in protein and calcium.
Ayran is one of the fundamental drinks of Turkish culture dating back to Central Asia. The Gokturks are said to have first developed ayran thousands of years ago by diluting bitter yogurt with water to enhance the flavor. The popularity of this drink has spread from Turkey to other parts of the world. Today, Ayran is ubiquitous in Turkey and is offered almost everywhere drinks are served, including foreign fast food chains like Mc-Donald's and Burger King. In addition to Turkey, Ayran can be found in Iran, Iraq, Afghanistan, the Balkans, Lebanon, Azerbaijan, Armenia, Kyrgyzstan, and across the Caucasus. This drink has different names in these regions. In Albanian cuisine, ayran is called 'dhalle', then 'in Armenian', 'ayryan' in Bulgarian and 'ariani' in Greek.
The small town of Susurluk in Balıkesir Province in northwestern Turkey is known for its ayran, which typically has a foamy head and a creamy flavor. The ingredients are pretty much the same as regular ayran, but restaurants in Susurluk use high-speed pumps to circulate ayran through a tap to create a foamy texture with a heavy creamy top and lower salt content than normal ayran.
Since Ayran is a summer drink, it is usually served chilled as an appetizer. It goes very well with doners, pastries and kebabs, as well as main dishes. Various street foods and fast foods can be eaten with ayran. You can just drink ayran or add mint.
Simple, if you dilute yogurt with less water and add cucumber pieces to it, you have another dish: cacık, which is made from yogurt, salt, olive oil, crushed garlic, chopped cucumber, and mint. Cacık is usually served to accompany grilled meats, and it can be consumed as a mezze alongside other dishes. As a side dish, it is heavily diluted with water, resulting in a soup-like consistency. It has different versions in different countries. Cacık is known as tzatziki in Greek cuisine, tarator in Balkan cuisine, and jajeek in Iraq.
Haydari is a different kind of mixture of some herbs, spices and garlic with strained yogurt. The main difference from cacık is that cucumber is not included in the recipe. It is only served as a mezze and it is believed to have a more sour and saltier taste than cacık.
If you want to taste cacık and haydari, you have to sit in a restaurant and order them together with your main course. However, you don't need a restaurant to taste Ayran. Many vendors in Istanbul's tourist areas are more than willing to fill a cup of Ayran from the containers on their backs to freshen up before heading out.
---
See Other Blogs
Popular Cities to Visit
What you should do in Side?
Antalya, Turkey: A city guide
Private & Shuttle Transfer in Antalya, Belek, Lara Hotels
Turkish Tea Culture
What should for Stress-free Holiday?
Places to visit in Antalya, Belek, Side, Kemer, Antalya, Lara, Kundu
Travel to Antalya
Book airport transfer in Antalya
Transportation to Antalya Airport