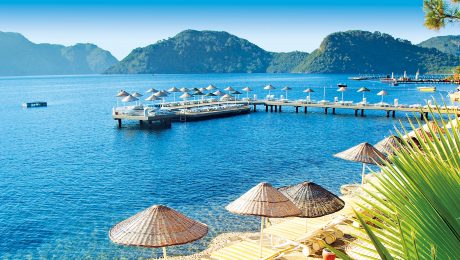 Private & Shuttle Transfer in Antalya, Belek, Lara Hotels
Private & Shuttle Transfers from the Antalya airport to the hotel
You have booked hotel and flight on your own, now all you need is a private or shuttle transfer from Airport to your hotel?
Hana Transfer offers with its additional product holiday transfers the right transfer from the destination airport to the hotel or cruise ship and back. You can easily book holiday transfers at hanatravel.com. It does not matter which organizer you have booked the other services with.
The offer currently includes the most important destinations in Antalya and numerous long-haul destinations. Transfers are offered in the following regions and destinations: Belek, Side, Evrenseki, Kumkoy, Bogazkent, Kadriye, Colakli, Kizilot, Kizilagac, Kundu, Sorgun, Titreyengol, Kundu, Lara, Alanya and all hotels of these regions. Transfers to long-haul destinations are carried out, for example, Fethiye, Pamukkale, Marmaris, Kas, Kalkan, Bodrum. You can also book holiday transfers for a city break. Enjoy an organized transfer for example in Maxx Royal Belek, Robinson Club, Amara Dolce Vita, Rixos Belek, Alp Pasa Kaleici, Titanic Deluxe Hotel, Voyage Sorgun….
You can book both individual transfers and the transfer of small groups and families. Means of transport are car, minibus, shuttle and limousine. It is also possible to carry your sports baggage such as diving equipment, golf bag or ski equipment; This must be stated when booking as special luggage.
Transfer from the residence, apartment, villa located in Belek, Antalya, Lara, Side, Kemer to the Antalya airport
With this service, you no longer have to worry about traveling to or from your home in Belek, Antalya, Lara, Side, Kemer to the airport: The transfer will take you to the airport throughout Antalya or pick you up from the airport.
Detailed information as well as a price inquiry with booking possibility you receive after the choice of your feeder with the booking mask.
Relaunch of holiday transfers: Faster to the finish!
Transfers in the holiday region of Antalya - easy to book in six steps
With a new logo and a comprehensive relaunch of the website, the product launches holiday transfers from hanatravel into the summer and presents itself with user-friendly improvements fresh and modern on the homonymous homepage hanatravel.com.
Six simple steps lead directly from the start page to booking a transfer as a supplement to a block or individual journey.
After the travel data have been entered into the Booking Forms, you can choose between a private transfer or transfer by shuttle bus. A quick search function for hotel name (Gloria Golf Hotel), destination, airport (Antalya Airport or Gazipasa Alanya Airport) or region (Belek, Side, Kundu, Lara, Kemer, Alanya) makes the selection easier. On the basis of this data, an overview is created with the booking details and the payment method is defined in parallel. Finally, the request is made to confirm the entries, which are then confirmed to the customer by email back.
If a cancellation is necessary, this is still up to 2 hours before departure for free of charge, and Hana Travel will never charge comissions for the cancellation up to 2 hours before transfer time.
The main navigation points Transfer types, Transfer destinations, Frequently asked questions, Contact and About us have been reorganized. With just a few clicks, these five categories provide well-structured all detailed information of the respective category.
Also directly on the home page you will find the agency login and customer login. Distributors and end customers should enter any flight time changes and find the status of their booking. It is important for us to inform agencies that they should log in before booking, so that they can be assigned to the respective account.
Whether as an individual, small group or family, with sports and special luggage - on hanatravel.com finds the transfer that fits – reliable, comfortable and secure. This is how holidays begin relaxed!
---
See Other Blogs
The best things to do in Antalya
Transportation to Antalya Airport
Antalya, Turkey: A city guide
What should for Stress-free Holiday?
Travel to Antalya
Turkish Tea Culture
Book airport transfer in Antalya
Popular Cities to Visit
What you should do in Side?
Places to visit in Antalya, Belek, Side, Kemer, Antalya, Lara, Kundu